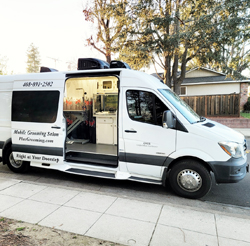 Mobile Cat Grooming
A+ Luxury Dog & Cat Grooming provides professional mobile grooming for cat at your doorstep, office, or any other convenient location so your pet is as comfortable as possible. This is a great option for pets that become nervous outside of their comfort zone and also for those pet owners who are super busy and time-strapped.
Cat Grooming at Your Doorstep
Comb Special $45-$65:
Indulge your feline in a customized treatment that begins with a full fur and skin analysis, and is then followed by our:
Clawdicure
Full Coat Comb-Out
Ear Cleanse
Sanitary Cleanse
Bath & Brush: $90-$115:
We take our "Comb Special" package to the next level by adding deep cleansing to the experience, which includes our:
Bath with special feline shampoo
Towel Wrap
Shed Reduction Therapy
Blowout & Fluff By Hand
Flea Control Package: $100 & Up
Flea and tick season has arrived - Make sure your loved one is protected with the proper medication to avoid annoying fleas and ticks. This package is the same as the "Bath & Brush" package except I use an EPA registered flea medicated shampoo containing natural pyrethrins which eliminates fleas and ticks on contact and conditions your pet coats, leaving them smelling fresh and clean.
Hair Trim & Style:
Enhance the health, comfort, and beauty of your kitty with a fur-coat trim; styled and modified to best frame their physique and meet their everyday needs. Choose from:
Lion Cut - $90-$115
Pelt Removal - $150 & Up
Lion Cut For Matted Fur- $95-$150
Sanitary Clip - $45
Sanitary & Tummy Hygiene Clip - $70-$80

Full Grooming Package: $125-$140
Combination of the "Bath & Brush" package and "Hair Trim & Style" package to make your little one look top-notch!
Nail Clipping:
$35 at your doorstep
$15 for each additional cat
Soft Claw Application:
Front Paws: $38
Soft Claw Removal: $10
A la carte:
Sometimes your kitty just needs a few touch-ups without all the bells and whistles.
Sanitary Clip: $45
Dematting Service: $45-$65
Topical flea medication: $16